Your baby is crying, the clock is loudly ticking away but you need to get your makeup done
First things first, in order to get your makeup routine fast and streamlined, you need to have a makeup bag ready and available with all of your quick makeup products. You don't want to be deciding what to put on when you've only got maybe 10 minutes (or less) to work with.
Here are the main products you need for a quick makeup look:
Tinted moisturizer or foundation. Moisturizer and a more full coverage foundation also works because it sheers it out and is like 2 steps in 1.
Concealer
Setting powder
Cream shadow in a neutral tone
Cream blush (tip: you can also use your favourite neutral pink lipstick!)
Tinted brow gel
Lash curler & mascara
Tinted lip balm or your favourite neutral pink lipstick
Step 1: Apply your tinted moisturizer or fuller coverage foundation/moisturizer mix


Full coverage anything is wayyy too time consuming but you can still wear it (if you need to) with your day moisturizer and you can apply it with your fingers.

Alternatively, if you prefer powder foundation, you can use that but keep in mind that you will need to apply your concealer before you apply the powder and your blush will need to be a powder too.

Step 2: Apply your concealer

Go for a lighter to medium coverage concealer for under eye concealing and any spot concealing. This will make sure your base looks seamless and natural with the lighter foundation you've applied.

Step 3: Set your face

Setting powder may seem like an unnecessary step but if you're running around and getting shit done like the boss mom you are, you need to make sure what you're putting down is going to stay in place.

A few swipes is all you need in mainly the t-zone area where we tend to lose makeup the quickest. Make sure to swirl your brush in the loose powder and tap off the brush until you can barely see anything on your brush and make sure to avoid your cheeks as we will be adding cream blush there and they don't mix well.

Step 4: Tint those brows

This step takes barely any time to do but still needs to be part of your routine because grow gel thickens, sets and holds your brows in place.

Step 5: Slap on some cream shadow

Cream eyeshadows are the easiest and fastest formula to apply because you can do it with your fingers. All you need is one cream shadow in a pretty, neutral colour with a bit of shimmer to it.

A neutral colour is more forgiving on your lids when there's any discolouration and it doesn't have to be applied perfectly to look good (bonus!).
Step 6: Curl your lashes

& apply mascara

Curling your lashes really takes no time to do but it makes a world of difference. Your eyes look much brighter and more awake even when you may not feel that way. You can't skip mascara, especially after curling your lashes because it locks that curl you created in place.

Step 7: Apply your cream blush (or neutral pink lipstick)

Applying cream blush is so easy and quick to do because you can apply it with your fingers in just a couple swipes.



You can also apply a neutral pink lipstick to your cheeks (if you're planning on wearing one anyways) because that will bring together this look even more and removes the need for an additional product in your makeup bag!

Step 8: Apply your tinted lip balm or fave neutral pink lipstick

Tinted balms add colour and keep your lips nicely moisturized (bonus!). Plus, they're so incredibly easy to reapply, especially when you don't have a mirror handy.

Bonus Tip: Bronze it up!

If you have a couple extra minutes, you can always add a bit of bronzer to warm up your face.

You can also add some to your lids as an eyeshadow to replace the need for a cream eyeshadow.
To see all of these steps in action, make sure to watch the above video!

The more you practice this routine, the faster it will become for you. Think about what is most important to you in your routine and focus on what would make the biggest impact on your face. Maybe you have good skin and can skip foundation and just need to do some spot concealing, or maybe you prefer an all-over bronzey glow and would prefer to use that instead of a cream eyeshadow – it all depends on you and what you like.

Do not use anything that will take more than a couple dabs or strokes because that will only add more time to your routine which we're trying to get down to the shortest amount possible.

The main thing to keep in mind in order for all of this to work is to not let perfectionism get involved in the process. If you start over thinking about something, that's only going to slow you down and make you take much longer to get your makeup done. If you don't have time to do it, just don't!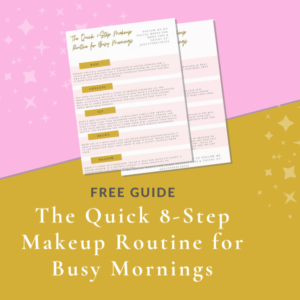 And if you've read up until this point, I have a SWEET downloadable worksheet that will give you all of these tips and tricks and then some that you can keep with you whenever you need to go back to it! How does that sound?! You can download it here .
Hugs, kisses & glitter,
Kelly